CGIL Seminar F2021- Dr. Andres Legarra
Location
Online via Microsoft Teams
Details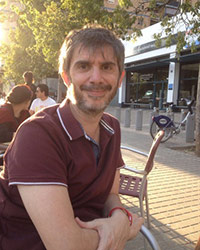 We are very pleased to have Dr. Andres Legarra, a Research Director at the INRA (France), to present a CGIL Seminar on Friday November 26th, 2021. The seminar will begin at 1:30 PM EDT/EST on the virtual platform Microsoft Teams. The title of the presentation is: "Method LR in theory and practice".
To join this seminar, please ensure you have downloaded the Microsoft Teams application to your computer, or join the meeting online by using the web browser version of Microsoft Teams. Connection information for the meeting has been sent via a Calendar invitation, additionally the meeting can be found at the link below.
Speaker Biography:
Andres Legarra is Research Director at the INRA (Institut national de la recherche agronomique) center of Toulouse, France, in the Animal Genetics department. He works on genetic improvement of livestock with strong emphasis in genetic evaluation with phenotypes, pedigree and markers, and he enjoys making incursions in pure Quantitative Genetics. Speaking fluently three languages, he believes in the great value of international collaborations. He also believes that key ingredients to science are rigor, enthusiasm, fun and usefulness.
________________________________________________________________________________
________________________________________________________________________________