CGIL Seminar W2021- George Hall
Location
Online via Microsoft Teams
Details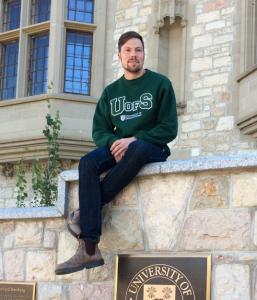 We are very pleased to have George Hall, a Ph.D student at the University of Guelph, presenting a CGIL Seminar on Friday April 9th, 2021. The seminar will begin at 1:30 PM EDT/EST on the virtual platform Microsoft Teams. The title of the presentation is: "Conserving turkey genetics through biobanking".
To join this seminar, please ensure you have downloaded the Microsoft Teams application to your computer, or join the meeting online by using the web browser version of Microsoft Teams. Please join the meeting with your microphone on mute and camera turned off. After the presentation, you can unmute the microphone, and optionally turn on the camera, if you wish to ask a question. 
Connection information for the meeting has been sent via a Calendar invitation, additionally the meeting can be found at the link below:
Speaker Biography:
George Hall starting his academic journey at the University of British Columbia where he graduated with a bachelor's degree in Biochemistry. After this he moved to Saskatoon and completed a Master's at the University of Saskatchewan within their Veterinary Biomedical Science department. There he studied gonad transplantation in turkeys and gonad vitrification methods. Here, in our department he is working with Dr. Gregoy Bedecarrats. Today George is going to tell us about turkey biobanking in general before going into his Ph.D. project.