CGIL Seminar W2021- Lucas Alcantara
Location
Online via Microsoft Teams
Details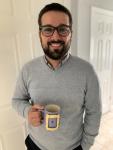 We are very pleased to have MSc. Lucas Alcantara, a PhD student at the University of Guelph, presenting a CGIL Seminar on Friday January 15th, 2021. The seminar will begin at 1:30 PM EDT/EST on the virtual platform Microsoft Teams. The title of the presentation is: "Development of an interactive web-based application to facilitate processing of pedigree data, deregression of EBV, and data visualization of genetic parameters".
To join this seminar, please ensure you have downloaded the Microsoft Teams application to your computer or join the meeting online by using the web browser version of Microsoft Teams. Please join the meeting with your microphone on mute and camera turned off. After the presentation, you can unmute the microphone, and optionally turn on the camera, if you wish to ask a question. Alternatively, should you wish to pose your question in the chat function, it will be monitored and asked to the presenter.
Speaker Biography:
Lucas Alcantara holds a Bachelor's degree in Biotechnology (2015) and a Master's degree in Biosciences (2017) from the Federal University of Bahia, Brazil. His passion for research and new challenges brought him to the University of Guelph in 2018 to pursue a Ph.D. in Animal Science under the advisory of Dr. Schenkel and Dr. Baes, where he seeks to understand the impact of cutting-edge technologies on breeding strategies for optimum sustainable genetic progress in Canadian dairy cattle.