CGIL Seminar W2021- Dr. Nick Serão
Location
Online via Microsoft Teams
Details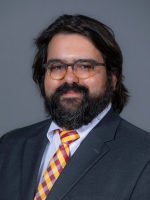 We are very pleased to have Dr. Nick Serão, an Assistant Professor at the Iowa State University, presenting a CGIL Seminar on Friday January 29th, 2021. The seminar will begin at 1:30 PM EDT/EST on the virtual platform Microsoft Teams. The title of the presentation is: "Genomics, novel traits, and vaccination to Porcine Reproductive and Respiratory Syndrome (PRRS) to improve performance in sows".
To join this seminar, please ensure you have downloaded the Microsoft Teams application to your computer or join the meeting online by using the web browser version of Microsoft Teams. Please join the meeting with your microphone on mute and camera turned off. After the presentation, you can unmute the microphone, and optionally turn on the camera, if you wish to ask a question. Alternatively, should you wish to pose your question in the chat function, it will be monitored and asked to the presenter.
Connection information for the meeting has been sent via a Calendar invitation, additionally the meeting can be found at the link below:
Speaker Biography:
Nick Serão is an Assistant Professor in the Department of Animal Science at Iowa State University. Nick grew up in Brazil and received his BSc. (Animal Science; 2007) and MSc. (Breeding and Genetics; 2009) degrees from the Federal University of Viçosa, and a PhD degree (Animal Science; 2012) from University of Illinois at Urbana-Champaign (USA). After 2.5 years as a Postdoctoral Research Associated at Iowa State University, he was on the faculty at North Carolina State University from 2015 to 2017. In March 2017, Nick returned to Iowa State University as an Assistant Professor of Swine Genetics. At Iowa State, Nick's research program focuses on the genetic and genomics bases of swine health, reproduction, and growth, and on statistical methodologies for genomic and experimental analyses. Nick has published over 60 peer-reviewed manuscripts, 12 papers in conference proceedings, and over 140 scientific and industry abstracts. To support his research program, Nick has obtained over $3 mi in grants and in-kind support. He teaches animal breeding and statistics courses for undergrad and graduate students and mentored 3 MSc and 2 Ph.D. students to date.